You are hereHotel San Giacomo Sport and Fun****
Hotel San Giacomo Sport and Fun****
---
Welcome! Visit our Hotel with Google Virtual Tour:

Visualizzazione ingrandita della mappa
TREVISO, THE PROVINCE OF SPORT
The Club Product "Treviso – the Province of Sport" brings together a number of operators specialized in tourism and offers dedicated services for those looking for an active holiday in an area naturally suited for sports!

Hotel San Giacomo Sport & Relax is one of the selected structures by the Province of Treviso for the characteristics, the equipment and the services. The ideal starting point for a sport holiday!

Discover the excellence of the Marca Trevigiana practicing your favorite sport, the better way yo do outdoor activities discovering stunning artistic and architectural masterpieces of great artists born in our Land and visit places that were the stages of the Great War.

From Monte Grappa to the Sile river, from Cansiglio wood to the Montello, from Brenta river and Piave there are many sport activities that you can practice. On foot of Monte Grappa and Asolo's hills you can practice nordic walking, trekking, mountain biking and snowshoeing with the full moon during the winter! Ascending wind streams provide an unique experience for those who do free flight, paragliding and hand gliding. And for golf lovers we have partnership with Clubs of 18 and 27 holes in the nearby that will guarantee you discounts and much more.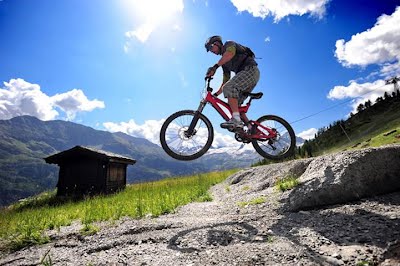 routes, maps and much more!
****Hotel San Giacomo Sport & Relax****

Piazza Martiri 13 - 31017 Paderno del Grappa TV Italy
tel. +39-(0)423-930366

fax +39-(0)423-939567